Down from the mountains
January 05, 2019
I've just returned from six weeks of service with Conscious Impact, a volunteer organization tucked away in the mountains in the Sindhupalchok district of rural Nepal. I'm sitting now in Shiva Yog Sadhana Kendra, the ashram I called home upon arriving in Nepal, and will call home for the next two months as I deepen my studies of yoga. A dramatic contrast: from dust-filled, calloused workdays to satsang and kirtan.
My time with Conscious Impact began with a series of bizarre, powerful events. My first evening, we commemorated the last meal cooked and shared in the camp's old kitchen and common space. A humble open-air bamboo structure with tin roofing that had hosted countless volunteers, three meals a day, for the last three years. That next morning we all helped with the task of moving everything into the new kitchen and common space: a two-story, brick building with arched windows and more counter space to cook, neighboring a breathtaking, thatched and woven bamboo gazebo that was to house us during meals, breaks, ceremonies and downtime. That evening we had our first meal under the thatched roof, and the next night we celebrated an international Thanksgiving all together, sheltered by exquisite interwoven bamboo. We followed our feast with drumming and barefoot dancing under the full moon.
That night I awoke to yelling, and looked out of my tent to see an immense flame that was the new common space lighting up the night sky. We gathered quickly around the flaming structure, shoveling soil around the perimeter in futility, before surrendering, arms around each other, to the magnificent destructive force. We watched until the last flames died down and all that was left was smoldering ash and concrete support pillars.
Through the night and the week we held each other, grieving the hours and hours of work that went into this space; the result of hundreds of hours of energy, of love, gone in minutes. We held each other in the face of the relentless impermanence of all that exists in this world, feeling the incredible preciousness of each other and what we love. We watched as gatherings formed each morning of Nepalis from the communities around us, discussing what had happened and what to do now, expressing their sympathy, compassion, and anger. Together, volunteers and Nepalis, we sorted through the ashes, cleaning the space, finding charred jewelry and half-burnt pages of books and the remnants of our Thanksgiving altar.
A week after the fire, a group of us embarked on a two-night trek higher up into the mountains, carrying with us ashes from the common space to offer to the mountain spirits. We slept above the clouds, with the Lang Tang mountain range surrounding us; below us pine-covered mountains breached the thick blanket of fog, endlessly expansive across the sky. We followed a route used by Nepalis on a yearly pilgrimage, walking through verdant rhododendron forests with mossy bark covered in deep red fungi. We passed empty stone shelters covered in prayer flags, and were extremely fortunate to find a tiny trickling source of water, patiently filling our bottles as Orion played flute and we watched the late afternoon clouds coming in.
As the sun rose on our second morning, we climbed higher still to a shrine to Shiva built atop the highest point of the mountain we were camping at. We sat in silence as the sun ascended from behind the distant mountains, bathing the cloud expanse in soft light. Orion led a puja: a ceremony to the mountain spirits and ancestors of the four directions, offering the ashes we carried back to the sacred element of fire.
Hiking back, separated from those ahead and behind me, I took a wrong turn and ended up on the mountain neighboring the one I intended for. Following an old Nepali woman and her three cows, she showed me the way, emphatically gesturing the route using her kukri, a traditional knife. Reuniting with the others and continuing, again I got lost, this time thankfully with a friend. We had a grand time hiking in the dark with high spirits, guessing which distant lights were our village - successfully reuniting once again with two friends who waited to find us, finally arriving back at camp exhausted and grateful.
Close to the Solstice, we erected a massive teepee in the common space area: it took a team of ten of us to lift the 35 foot bamboo poles, wrapping the structure in custom-sewn canvas. This became our new common space; beautiful, majestic, cozy, honoring the space that existed before and offering space to create newness.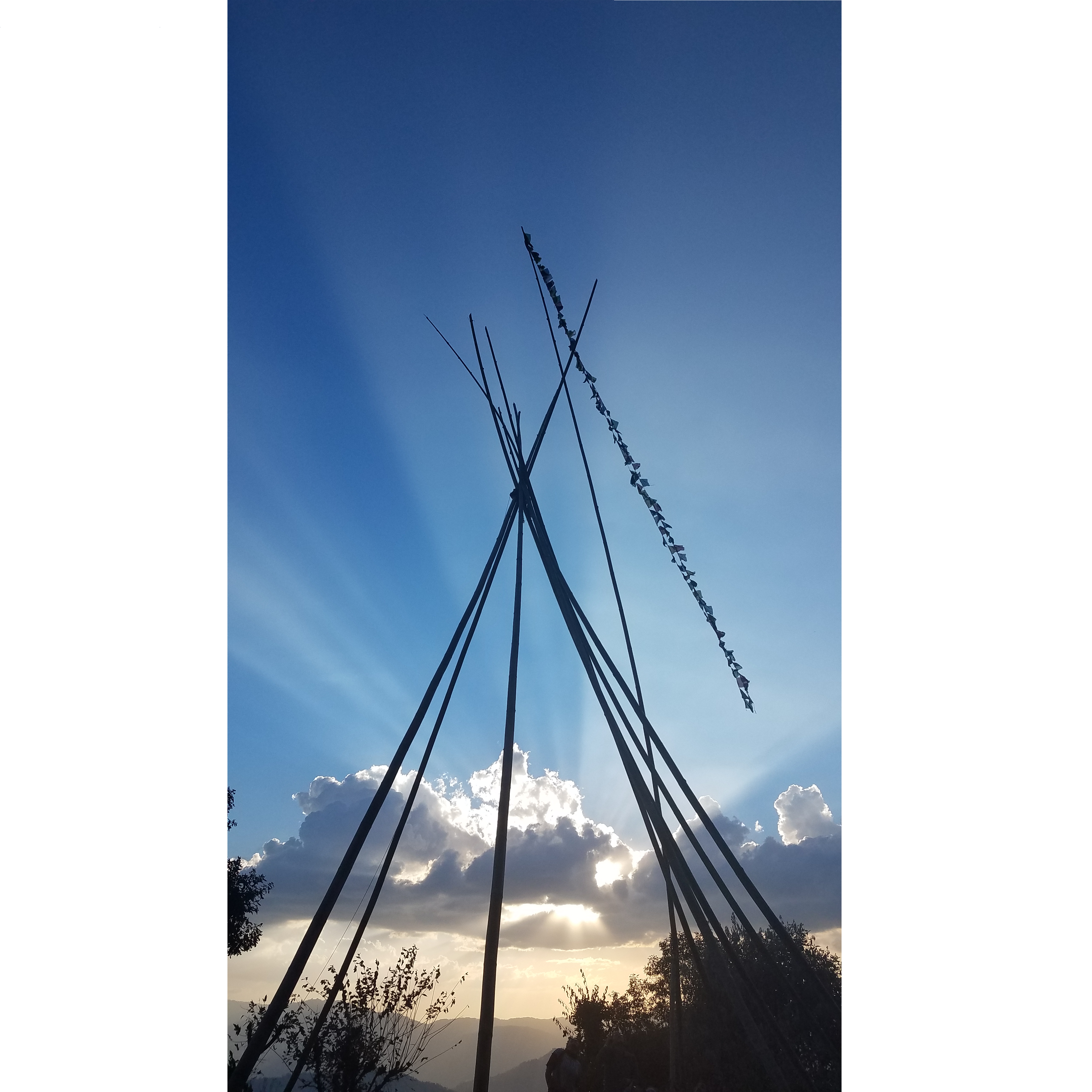 As December came Steven and I brought our Hannukah traditions to the camp community: building a menorah out of bamboo and clay, telling the Hannukah story and teaching the prayer over the lights. We made latkes and applesauce for everyone, and Steven and I sung our familys' Hannukah songs to each other in the kitchen as we cook. I felt Mom's presence so strongly, with me as I sing the songs she sung to me growing up.
Each day is different at camp: some mornings I offered a sunrise yoga session, developing my teaching voice and sharing my personal practice; other mornings the community held noble silence until after breakfast; sometimes a fire was made and the day was started with chanting. Everyone signed up for their morning and afternoon work, with the freedom to choose whichever work felt most fitting to the each individual's physical, mental, and emotional energy levels that day.
The main project was building a new coffee cooperative for local coffee growers to process their beans. The building is being made with earthbag technology, a sustainable natural building technique that is affordable, efficient to work with, and highly earthquake-safe. Other work options included helping at the brick-production facility next to camp, which is a Nepali-led center that was started with the help of Conscious Impact. Agriculture work was available, which could involve transplanting, watering, leaf collection, mulching, and visiting local farms to help with winter protection of plants. We worked and lived closely with the Nepali community, building together and digging together, visiting homes and sharing meals.
My favorite work, however, was helping Parbati in the kitchen. Partbati is a Didi (Nepalese for aunty) with an enormous heart, who cooks daal-bhat, tea, and snacks for the brickmakers and volunteers every day. She showed me how to make achars (sauce or pickle), saag (sauteed leafy greens), tarkari (curried potato and vegetables), and channa (chickpeas). She would often dance to music while we cooked and had an intuitive wisdom about how each person at camp was feeling. There were days I would see her and she would immediately sense I was feeling down, giving me a hug and saying "Brother, not feeling so well today, I'm sorry…" She often caught me eating leftovers out of the pots, reprimanding me jokingly with a huge grin - and I would catch her sneaking a cookie, returning the grin.
Work ended in the afternoon around 4:30pm, allowing some downtime to rest, shower, read and write. Breakfasts and dinners were cooked by rotating teams of three-five volunteers, and I was consistently blown away by the deliciousness and variety of meals produced in our humble kitchen and local ingredients. Tom kha, tamales, pizza, each paired with a fresh bountiful salad from our garden. Before dinner began, we gathered all together in a circle and shared daily gratitude: one by one, sharing what we each are grateful for on this day. We followed gratitude with a blessing - anything, from a poem to a song to a sentence, open to anyone to offer each night. And then we feasted, snuggled in sleeping bags with the camp dogs tucked in under feet. After dinner we played cards and talked, and retreated to our tents early.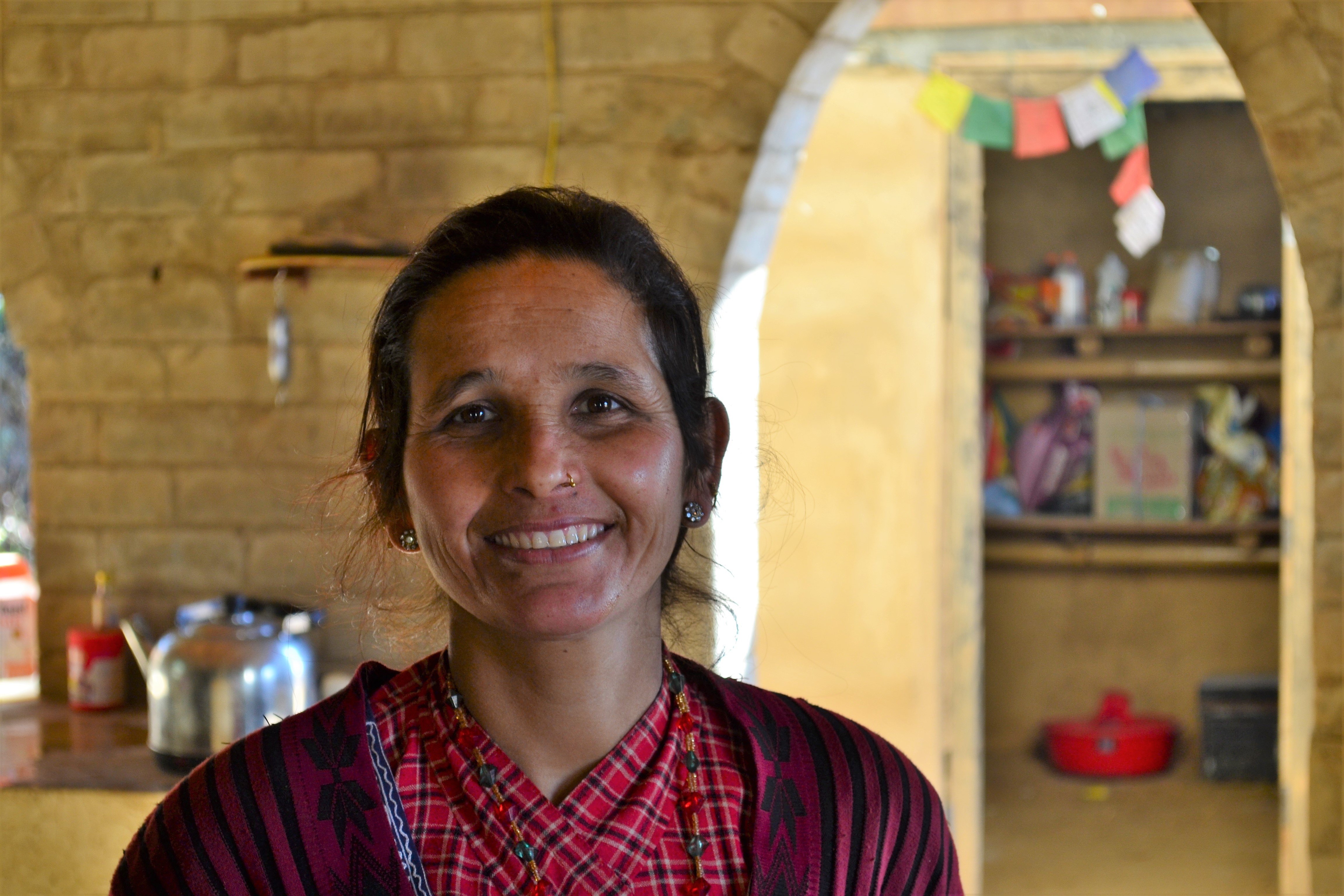 I celebrated Mom's birthday at camp: playing Scrabble on a handmade board (spelling two seven-letter words - Mom, I know you'd be proud), eating dark chocolate, and going on a slow, meandering walk in the surrounding wilderness. We celebrated the Solstice, inviting in Lucina, Pagan goddess of light, and did a fire ritual, spiraling into the darkness of ourselves. We celebrated Christmas, with two days filled with baked treats and movies, a bamboo tree and a Secret Santa gift exchange. We celebrated New Years, asking 2019 what it was that was being called of us in this coming year, counting down to Japan's midnight as it was the earliest, and watching the first sunrise of the year from a Stupa an hour from camp.
When it came time to leave Conscious Impact, what was strongest is saying goodbye to the community. Nowhere have I felt so surrounded by acceptance, intention, and generosity. Never have I felt so inspired, taught by so many unique stories, been witness to so many beautiful paths all converging in one place, in service and love. Nowhere have I felt such celebration of each individual; each gift, offering, teaching, and unique energy.
Within each person here there is deep, selfless love, which comes out every day as we give service to the Nepali community we are immersed in, our own community, ourselves, and to the Earth. We choose to step out of the noise, the disconnect of dominant culture, and give ourselves to the ground beneath our feet, the dust in our skin, the bamboo supporting our roofs, the fire warming us and bringing us close. We look each other in the eyes, witnessing different cultures, different circumstances, different needs. We embrace humility towards those we serve and that all which serves us.
I step away feeling fuller, more wholly myself, more aware of what that wholeness looks and feels like. I step away treasuring the gifts that I uniquely am able to share, and with greater trust in my ability to share them. I step away feeling lifted, moved, inspired, changed by each person I have connected with in my time here.
I leave held, surrounded, filled with, inseparable from the sacredness of the natural world and the natural energies that pervade all things. I leave with new songs, new recipes, new rituals and new practices. I leave dreaming of building my own earthbag home and starting a permaculture farm. I leave with new friends from across the world and a space that will always be a home. I leave with a newfound joy in feeling mud squeeze between my toes, shoveling gravel and soil, and of waking up before the sunrise. I leave with a full heart, a heavy heart, and a more open heart.